UTECH ontwerpt zorgvuldig de cnc routerfunctie als eisen van de klant. We doen ons best om klanten maximaal te helpen bereiken. productievoordeel met de minste investering. UTECH heeft een speciale kwaliteitscontroleafdeling opgezet in onze fabriek. Omdat elke stap mensen heeft om het af te maken. We hebben een professionele technicus om de machine te testen en te controleren wanneer de machine klaar is en natuurlijk voor de levering.
CONFIGURATION
3.2kw water/3.5kw air cooled spindle
Nc-studio controller
XY axis by Patent type reducer structure 1:4+450B transmission structure, Z axis by Taiwan TBI ball screw(Disc coupling direct connection.); XYX axis by JMC 860 driver.
Xinfutai inverter
Double stop protection device
Portable control box, place the position saving device to take up space.
The equipment is equipped with a professional forklift station to facilitate loading and unloading equipment.
Humanized mechanical structure design, optimized
product packaging method to save transportation cost.
Taiwan PMT 20 guide rail+20mm flange slider
Y-axis double protection anti-dust optimization design,better protection of linear guide service life.
Nc center precision machining T6 material precision
machine head accessories set.
Square pipe welding bed structure.
T-slot table
Electronic inductance limit switch.
Tool sensor
Tool box(parameter list/controller install software/drawing software/etc),cutters, etc.

Gedetailleerde afbeeldingen
1 / Machine bed met 200 * 300mm vierkante buis gelast samen, vergeleken met gewone machines, we gebruiken de vierkante buis model kan beter de stabiliteit van de apparatuur.

2 / Bedlasproces verhoogt de gereserveerde vorkheftruck, benadrukt twee belangrijke voordelen: Ten eerste, verhoog de sterkte van het bed zelf; Ten tweede is het handiger voor klanten om de apparatuur niet meer te gebruiken.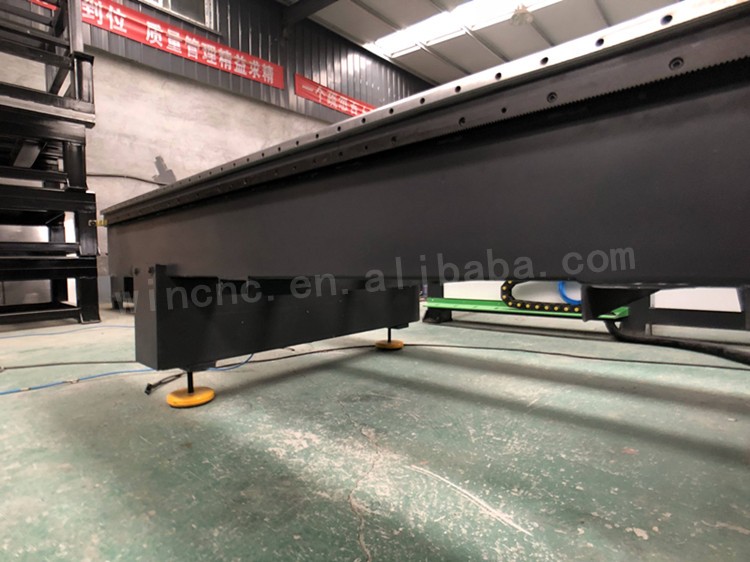 3 / we nemen gescheiden type draaibank bedstructuur. Met het doel: nadat u ervoor heeft gezorgd dat de klant de apparatuur ontvangt, hoeft u geen volledige demontage uit te voeren en heeft u geen invloed op de werking van de apparatuur. In deze omstandigheden hebben we de ontwerpstructuur geoptimaliseerd. De uiteindelijke verpakkingsgrootte van het product werd vervolgens met 5 m³ bespaard. Zo bespaart u transportkosten.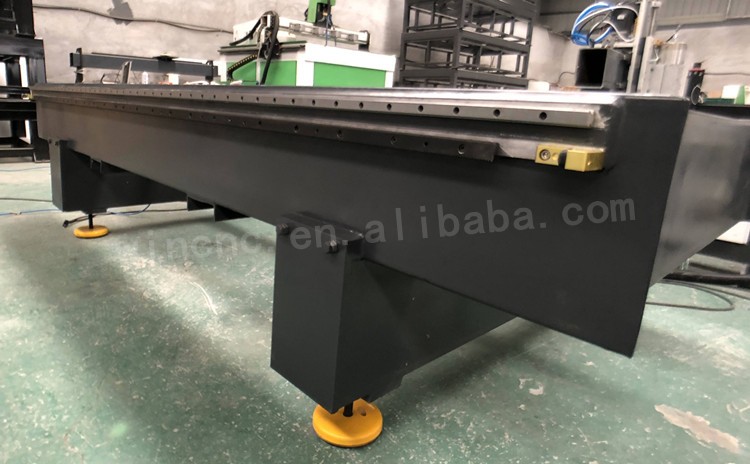 4 / Transmissie kolom, nemen we hoge precisie bewerkingsproces, zorgen de nauwkeurigheid van accessoires. Zoals insert cavity position, assembly surface.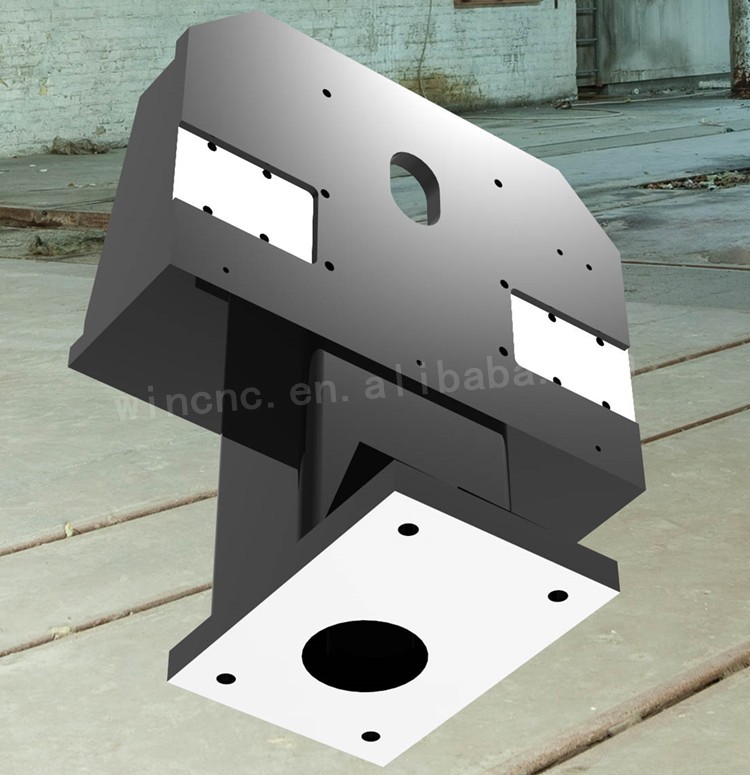 5 / Ten eerste, voor de keuze van de hand stuk, kiezen we T6061 / 6063 luchtvaart aluminium legering als het basismateriaal. Door de precisieverwerking van CNC Processing Center hebben we onze voltooide onderdelen voltooid. Ten tweede zorgt het assemblageproces met hoge vereisten voor de precisie van het product.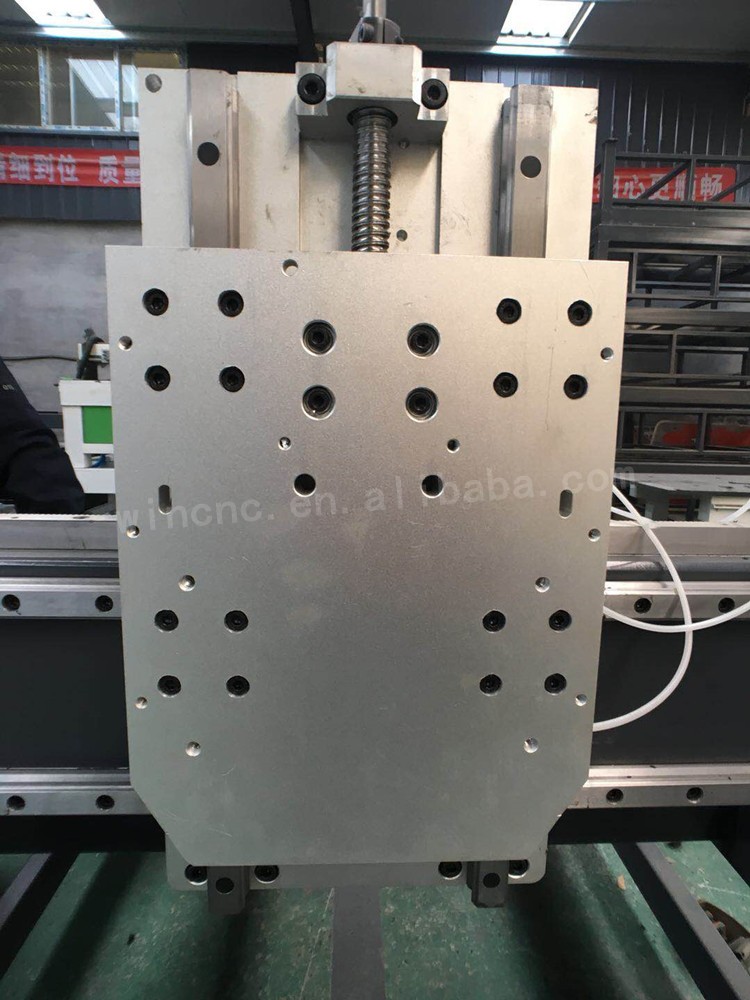 6 / Kies voor zwaar uitgevoerde lineaire geleiderail met glijblok met hoge montageflens.
| | |
| --- | --- |
| Advertising industry | Acrylic cutting, density board cutting, snowflake cutting, double color board carving, various advertising boards. |
| Furniture industry | Cabinet doors, wooden doors, solid wood, mahogany furniture, antique furniture, all kinds of composite sheet cutting carving. |
| Plate processing industry | Insulation board, plastic work piece, PCB board, anti-double board, epoxy resin, ABS, PP, PE and other carbon mixtures. |
| Crafts industry | Artificial marble, PVC, wood, plexiglass, copper aluminum and so on. |
| Decoration industry | The screen, wave plate, wood, artificial marble, organic board, decorative board, double color board and other materials on various exquisite patterns and text carving. |
Het bed is gelast met dikke muur stalen buis, integrale verdikking vierkante buis, solide en niet vervormd. Na hoge temperatuur ontlaten behandeling om de beste sterkte en stijfheid te garanderen.

De kop van de machine is gemaakt van T6061 / 6030 aluminium onderdelen door een professioneel CNC bewerkingscentrum. Na oxidatieoppervlak en gloeibehandeling bij lage temperatuur is de kop van de machine lichter en duurzamer.

Gebruik een metalen plaat van 3 mm voor de stofkap, meer dan tien werkprocedures, professionele schoonheid en correctie.

Gebruik Duitsland VRAAG 25 mm vierkante rails. De Y-as heeft een dubbele rij geleider met vier kolommen, met een sterke draagkracht, hoge snelheid, soepele werking, hoge precisie en hoge levensduur.

Het rek keurt Duits ingevoerd hoog-nauwkeurig spiraalvormig rek goed, dat met de servomotor en het professionele vertragingsapparaat complementair is, dat regelmatig, hoge snelheid, hoge precisie en met geringe geluidssterkte loopt.

Gebruik Simple servomotor, het machinekoppel is groot, de verwerkingssnelheid is snel, de hoogste snelheid kan 40m / min bereiken. Met reductiemiddeltransmissie, is de machine stabieler, hoge efficiency, hoge precisie en met geringe geluidssterkte.
bedrijfsinformatie
Ongeacht wanneer en waar, wanneer ik je bericht ontvang, zal ik elk werk neerleggen dat ik voorhanden heb om op je te reageren en je te helpen.